HOLLENBECK PEST CONTROL USES CONVENTIONAL LIQUID TREATMENTS AND GREENER ALTERNATIVES SUCH AS HEX PRO STATIONS TO RID TERMITES FROM YOUR HOME OR BUSINESS .
The more we learn about termites, the more we understand the damaging impact they have on our buildings. The Hex-Pro System is installed and serviced by our pest management professionals. With the visible Hex-Pro termite stations and ongoing monitoring by a pest management professional, you'll have reassuring evidence of termite protection. Hex-Pro controls termites with an odorless, less invasive, targeted approach.
Call Hollenbeck Today!
845-565-5566
Termites are Built for Destruction:
Termites are very small insects that are similar in size to ants, which often leads to confusion.

Almost 4 million U.S. homes are infested by termites each year. Termites can be found in every state except for Alaska.

They primarily feed on wood, but also damage paper, books, insulation, and even swimming pool liners and filtration systems.

Signs of infestation are earthen (mud) tubes extending over foundation walls, support piers, sill plates, floor joists, etc. The mud tubes are typically about the diameter of a pencil, but sometimes can be thicker.
Here's What Termites Do:
Termites are known as "silent destroyers" because of their ability to chew through wood, flooring and even wallpaper undetected.

Each year, termites cause more than $5 billion in property damage - costs that aren't usually covered by homeowners' insurance policies.

Besides the monetary impact, thousands of winged termites emerging inside one's home are an emotionally trying experience — not to mention the thought of termites silently feasting on one's largest investment.

Discovering winged termites indoors almost always indicates an infestation warranting treatment.
our termite approach:
Unfortunately, Do-it-yourself termite treatments are mostly ineffective and will not prevent termites from re-infesting your property. Termites are highly secretive insects that are difficult to identify without specialized training.

We use the HexPro Termite Baiting System which is designed to protect structures from termites through monitoring and baiting when termites are found to be active. Using the HexPro Termite Baiting System consists of three steps:

Monitoring for termite activity

When termite activity is detected replacing the wood monitors with Shatter Termite Bait.

Resuming monitoring with wood monitors when termite activity has stopped.

We also offer Pre-Soil treatment prior to the build of your home or business and Post conventional treatments
Request A Termite Inspection
or call us now
845-565-5566
WHAT IS THE HOLLENBECK GUARANTEE?
We guarantee our methods are the most thorough, safe and effective in the industry. We promise a friendly, responsive approach and an exceptional experience. All of our services receive an automatic 2 week follow-up to ensure a successful treatment.
We also warranty all of our services for at least 30 days and some up to 1 year. You can be rest assured in hiring Hollenbeck Pest Control: "if the pests return, so will we!"
WE'VE BUILT OUR COMPANY WITH A FOCUS ON PROVIDING THE ABSOLUTE BEST POSSIBLE PEST REMEDIATION & CUSTOMER SERVICE IN THE AREA
our loyal customers and their referrals keep our business humming
We've Got the Tools,
Talent & Experience
We've been doing this for a long time and know what works and what doesn't. We constantly experiment with new tools and techniques to refine our treatments.
All of our services include an automatic 2 week follow-up to ensure success, then begins a warranty period ranging from 30 days to 1 year, based on the service.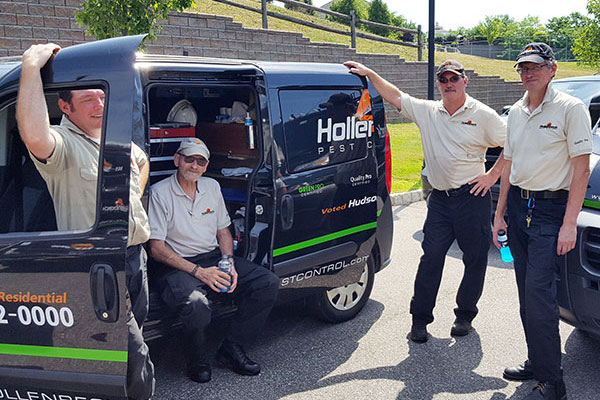 We are not a national chain, but a local family-owned business that is big enough to be able to service our customers promptly and professionally while still providing a personal touch.
At Hollenbeck we have a philosophy about quality and customer service, and it shows in our wonderful reviews and customer testimonials.